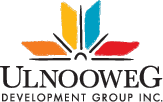 Ulnooweg
Ulnooweg provides loans and business services to Aboriginal entrepreneurs in Atlantic Canada. With representatives in New Brunswick, Newfoundland, Nova Scotia and Prince Edward Island, we offer convenient, personalized service to our clients to help them succeed.
Aboriginal Business Experience
We are in business to help Aboriginals do business. We recognize that Aboriginal business owners bring a different set of experiences and skills to business, and that some of those experiences may not be well understood by traditional lending agencies. Our staff of Aboriginal and non-aboriginal client service representatives are familiar with the unique challenges there are for Aboriginal entrepreneurs to start and operate a business. We take the time to work with each client individually to make sure they have the information and resources they need to make their business succeed.
Ongoing Support
At Ulnooweg, we understand that there are all sorts of reasons for starting a business - providing for family and hiring members of the community are two of the main ones. We also know that loans are not a guarantee for business success. Business skills and processes are an important part of making a business work. At Ulnooweg, we offer a full set of business services along with our loans to ensure that Aboriginal business owners can run their businesses professionally and profitably, which benefits them and their communities.